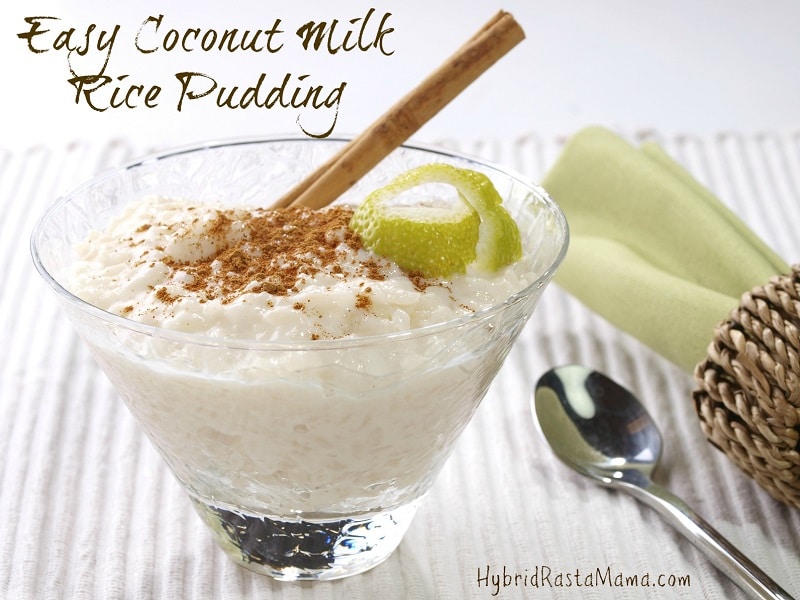 We don't eat a lot of grains in our house. White rice and millet are about the only two grains that sneak in once in a while.
When I do make rice, I typically just serve it plain. But lately, Tiny has been asking for rice pudding. I have no idea where she learned about it but I decided to oblige and create my version of rice pudding using coconut milk, coconut oil, and some other goodies.
The results were delicious. I steer clear of all grains but couldn't help myself! This was really, really scrumptious!
Ingredient links are affiliate links. Thank you for your support.
Easy Coconut Milk Rice Pudding
Yield: 4 servings

Prep Time: 5 minutes

Cook Time: 40 minutes

Total Time: 45 minutes

An easy, scrumptious recipe for coconut milk rice pudding that can be served warm or cold.
Ingredients
1/2 cup white rice, preferably soaked in water for several hours before.
2 cups full-fat coconut milk (I like this brand)
1/2 cup raisins (optional)
1 tablespoon coconut oil (I like this brand)
1 teaspoon ground cinnamon (this is a great buy)
1/4 teaspoon cardamom
1/2 teaspoon lemon juice
Sugar or raw honey to taste (I love this brand)
Instructions
In a large saucepan, combine all of the ingredients except the honey.
Bring the mixture to a gentle boil over medium-high heat.
Reduce heat to low, cover and cook stirring frequently, for 30 or until thickened and rice is cooked. Keep an eye on it!
After the pudding has formed, stir in a bit of raw honey to taste. I find we don't really need it.
Notes
This can be served warmed (our favorite) or chilled and eaten cold.
Nutrition Information:
Yield: 4 Serving Size: 1/2 cup
Amount Per Serving: Calories: 358Total Fat: 28gSaturated Fat: 24gTrans Fat: 0gUnsaturated Fat: 2gCholesterol: 0mgSodium: 20mgCarbohydrates: 30gFiber: 1gSugar: 17gProtein: 3g

This nutritional information was auto-generated based on serving size, number of servings, and typical information for the ingredients listed. To obtain the most accurate representation of the nutritional information in a given recipe, please calculate the nutritional information with the actual ingredients and amounts used, using your preferred nutrition calculator. Under no circumstances shall the this website and the author be responsible for any loss or damage resulting for your reliance on the given nutritional information. You are solely responsible for ensuring that any nutritional information provided is accurate, complete, and useful.