Tis' the season to be bombarded by "holiday shopping guides." It seems that every five seconds a new blog post comes out highlighting all the must-haves and essential gifts. I admit, I may have written a few of these myself back in the day. This year, I decided that I wanted to highlight three companies to support this holiday season. Why? Simply put, they are deserving of your business for a myriad of reasons. Let's take a look at these companies shall we?
Morrocco Method
This company of mainly natural hair care products has always been one of my favorite affiliates to both use personally but also promote to my lovely audience. The Morrocco Method line of products is hands down the most natural, the most effective, and the most budget friendly ounce for ounce than any other hair product line I have tried. They are also just good people. When we lost everything in Moldageddon, they were quick to ensure that I was well stocked on all my hair care essentials. I didn't even have to ask…they just sent me an amazing care package. This speaks volumes to me.
There is something for everyone on your holiday list. The Morrocco Method line of products includes:
Shampoos
Conditioners
Hair Elixirs
Henna Hair Dye
Styling Products
Brushes
Scalp Massagers
Facial Care Products
My personal favorites are the:
To learn more about this one-of-a-kind company check out this post or just read their story. If you want to gift your friends and family with some Morrocco Method products, check out their store. Enter RASTA15 and get 15% off of anything Morrocco Method carries until 02/28/2017. Already a customer? No worries – you get to use this code too.
Be sure to read to the bottom of the post because Morrocco Method is hosting an awesome holiday giveaway for you all!
Intellibed
I know, I know. How often do you gift someone with a mattress? Probably never. But this post would be a sham if I didn't include Intellibed. And who says that you can't gift yourself with proper sleep…or put the best mattress on the planet on YOUR wish list?
In January, I will give you a proper introduction to Intellibed and my experience with it. I honestly could write pages about how epic this mattress is and how it changed how I slept. It truly revolutionized my little world of insomnia.
This company is truly one of the best companies out there. They have a strong commitment to their customers, both in terms of customer service but more importantly with regard to their health and wellness. This is the healthiest mattress I could find and when you couple it with the unbelievable comfort – that is priceless. Their warranty and return policy is unmatched in the industry so you can trust your purchase.
Stay tuned to learn more about this company and their mattresses in January but if you would like to take the plunge now…and trust me, you should, tell them I sent you when you call in your order! You will get 10% off your entire purchase. The coupon code is: HYBRIDRASTASLEEP.
CocoLuxe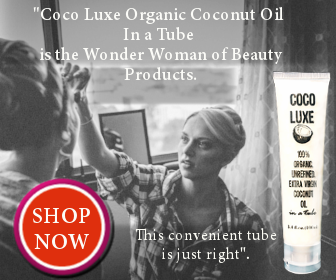 I love me some coconut oil as you are all well aware. I also love me a little convenience now and again. When it comes to traveling with coconut oil or simply taking it on the go, it tends to be a little cumbersome.
That's where CocoLuxe comes into play. This awesome affiliate company puts that amazing coconut oil goodness right into a tube which makes it super portable and crazy easy to use! I am very rarely found without a tube of this.
Instead of re-singing their praises in this "trying to keep it short and
sweet" post, I suggest you check out this post to learn more about why I love CocoLuxe. If you have some time on your hands, why not see how I travel with coconut oil. Then go ahead and gift a tube of coconut oil to just about everyone on your gift list! They will thank you.
Hold on!!!! Breaking News! CocoLuxe has a BRAND NEW LINE of coconut oil in a tube! Yep – you heard me right. They are now offering peppermint infused coconut oil. Does this make the perfect holiday gift or what??? I am so darn excited to try this coconut oil. It really is the best of both worlds – peppermint essential oil (which I use a ton of) and coconut oil, all in a convenient tube! I almost want to do a cartwheel over this.
Want to try some peppermint coconut oil or give it as a gift? Enter coupon code RastaCoco16 for 20% off your purchase. This includes the original CocoLuxe line of coconut oil as well. Stock up now. This is a great deal!
Who Is ready For A Great Giveaway
I have teamed up with Morrocco Method to give all of you the opportunity to win a Healthy Hair Starter Package. You can keep this for yourself OR they will happily ship it to anyone you would like to gift it to! How cool is that?
The Healthy Hair Starter Package is perfect for people ready to transition from chemical hair care into the amazingly nourishing effects of Morrocco Method's raw, vegan, and gluten-free hair care products. With all five shampoos, all 6 conditioners, a sample of the styling gel and an e-book, this package is an awesome option for beginning your healthy hair journey with MM products. This is a $69 value!
This giveaway is open until December 14th so don't wait to enter!
How To Enter
I am making this easy on you since I know time is of value! Simply leave a comment on this post and boom! You are all entered into the giveaway! What kind of comment can you leave? Any comment! Yep – any comment so long as it is a positive one.
If you feel so inclined, we would love it if you could follow our social media accounts!
Morrocco Method:
Facebook
Twitter
Pinterest