I'm a huge muffin lover! In high school one of my favorite treats were these big, fat, blueberry cheesecake muffins from the local coffee shop. They were so sweet and moist, I didn't even think about all the processed sugar and white flour.
Now that I've discovered my tummy loves me a lot better when I pass on the gluten, I've had to get a little more creative in the kitchen. You won't find white flour and sugar in my pantry anymore. And the vegan margarine sticks and store bought white eggs have been kicked out of the fridge.
If you need to make these blueberry cheesecake muffins dairy free, you can substitute coconut oil for the butter.
I have yet to find a dairy free, soy free, crud free cream cheese in the stores, but this article from Healthful Pursuit shows you how to make some using cashews. I've had cashew "cheesecake" before, and I was surprised at how much like real cheesecake it actually tasted. You could use it as a spread, like butter, on top of some muffin halves. However, since it's made from nuts, it would lose the cream cheese texture if baked.
These muffins use almond flour as the base, just like my family's breakfast staple, banana rasperry muffins. Pair it with a homemade superfood vanilla latte, and you won't even miss the overpriced coffee shop!
Unless you're able to shell out some money for really nice, super fine almond flour, the texture of almond flour baked goods is usually much coarser than those made with wheat flour. What I like about this recipe is that the arrowroot powder makes these a little lighter. Just be sure to store any leftovers in an airtight container to keep them moist. Assuming you have any leftovers that is.
My husband really could care less about anything resembling a cake. We even had ice cream cake at our wedding. He does however love these blueberry cheesecake muffins, which he told me as he stuffed two into his mouth…not both at once of course.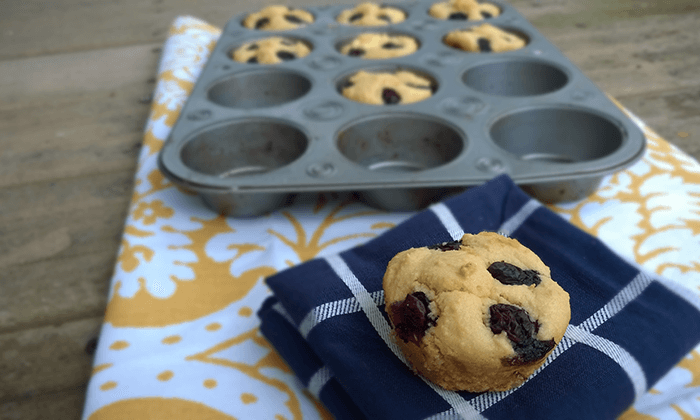 Blueberry Cheesecake Muffins
Looking for a grain free muffin to rock your world? Love cheesecake? Then you will go gaga for these naturally sweetened blueberry cheesecake muffins.
Ingredients
Batter Ingredients
Cheesecake Filling
4oz cream cheese (1/2 a block)
1 tbsp maple syrup
1 drop high quality lemon essential oil
1 egg yolk
1 and ½ tsp arrowroot powder
Instructions
Thoroughly mix together the almond flour, arrowroot powder and baking powder. Add the maple syrup, butter, vanilla and eggs.
Gently fold in the blueberries.
In a separate bowl combine all of the filling ingredients and beat until smooth. These can also be mixed in a food processor.
Spoon some of the muffin batter into a muffin tin, so that it just covers the bottom. Drop about 2 tsps of the cheesecake mixture into the batter. Cover the cream cheese with more batter, so that the muffin cup is about 2/3 full. Exact measurements aren't really important here. Jumbo muffin tins are easier to work with here, but I just used the regular size.
Bake at 325 for 20-25 minutes, or until no longer wet looking and just starting to turn golden.
Allow to cool before eating so that the cheesecake center firms up. Unless you just can't resist the urge to eat one immediately, then I don't blame you.
Recommended Products
Nutrition Information:
Yield:

12
Serving Size:

1 muffin
Amount Per Serving:
Calories:

93
Total Fat:

8g
Saturated Fat:

5g
Trans Fat:

0g
Unsaturated Fat:

3g
Cholesterol:

66mg
Sodium:

73mg
Carbohydrates:

3g
Fiber:

0g
Sugar:

2g
Protein:

2g
This nutritional information was auto-generated based on serving size, number of servings, and typical information for the ingredients listed. To obtain the most accurate representation of the nutritional information in a given recipe, please calculate the nutritional information with the actual ingredients and amounts used, using your preferred nutrition calculator. Under no circumstances shall the this website and the author be responsible for any loss or damage resulting for your reliance on the given nutritional information. You are solely responsible for ensuring that any nutritional information provided is accurate, complete, and useful.
About this special guest poster…
Jamie blogs about how to be a good steward of your God given resources at The Herbal Spoon. She's taken herbalism and aromatherapy courses and creates her own plant based, safe for the whole family bodycare items for her etsy shop, This & That Herbal. Visit her on Facebook, Twitter and Pinterest for real food recipes, DIY bodycare and natural health information.